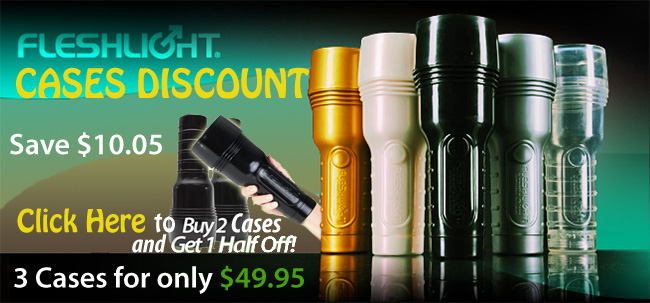 Do you need a replacement case or you've just bought a single fleshlight sleeve without it? Maybe you're creating you personal fleshlight collection and you need some cases? Save money, and use this fleshlight discount for 3 cases. With this offer you can buy two fleshlight cases and get third half off. Three Fleshlight Cases® sold separately costs $60, with this discount all three cases can be yours for only $49.95. Using this offer you can save $10.05 for extra shopping. You have to know, when you're buying fleshlight masturbation sleeves, cases are not included. With this offer you are able to choose every of your three fleshlight cases from five available variations. You can choose from : Black Fleshlight Case , Ice (Clear) Fleshlight Case, Blue Fleshlight Case, Silver Fleshlight Case & Fleshlight Girls Pearl Case. Remember to keep your sleeves in cases! There is nothing to say more in this review.




The Fleshlight Case is a plastic can designed perfectly for Fleshlight sleeves, and now all the fleshlight cases are released in re-designed version. The new, refreshed case is now better aggressive looking and best of all, technically improved. There are three main improvements. The taller cap leaves more space for the insert, the special enclosure for quicker lid removal, and the third feature is new vented rear threads that provides even better suction control!!! The newly redesigned Fleshlight Case is available in five color editions: Black, Ice (Clear), Blue, Silver & Fleshlight Girls Pearl - and all of them are related with fleshlight discount. Here you can take a look at the all cases available with this offer:



Disclaimer: All presented Fleshlight Cases®, are product of ILF inc. Fleshlight ® logo on every case gives you the certainty of the highest quality.